NEWS
Michelle Williams on Life, Love and Grief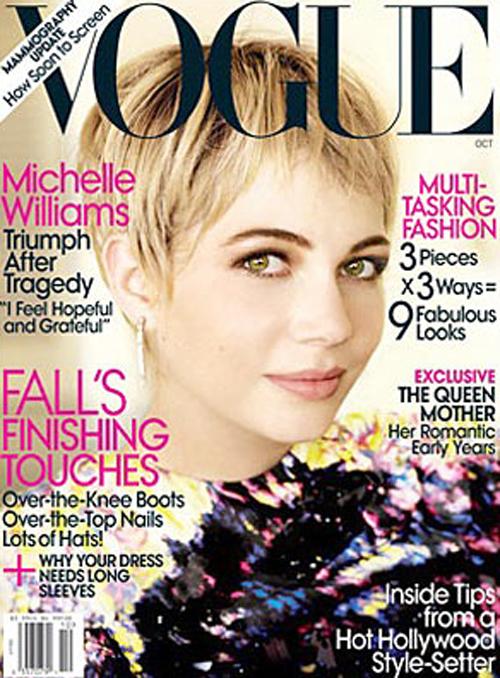 A usually reclusive Michelle Williams tells all in the October issue of Vogue, spilling her inner thoughts of dealing with grief, being a single parent and life after Heath Ledger. Michelle reveals she's relied on friends, family and relocation to get her through troubled times.
Michelle says her downward spiral began in 2007 with her split from Heath. Heartbroken, she quickly obtained work as far away as possible, landing a job in Sweden.
Article continues below advertisement
"I just didn't want to be at home. Geography is a great solution for heartbreak," Michelle says in the interview.
While abroad, grief struck again with the untimely death of Heath. Michelle reverted to the geography method and obtained (and maintains) an undisclosed residence in upstate New York, away from prying paparazzi eyes. Michelle and daughter Matilda Ledger split their time between that getaway and their Brooklyn home.
"Friends never really left me alone when we came up here," she explains. "One got me gardening in the spring and that's when it all turned around. I remember being on my hands and knees. The ground was cold and muddy. I pushed back the dead leaves and saw green shoots of spring. Under all this decay something as growing. Caring for the garden reminded me to care for myself."
But gardening is not the only place that Michelle finds solace these days. Matilda to her, has grown to be her support system.
Article continues below advertisement
"Every time I really miss him Heath and wonder where he's gone, I just look at her," she shares.
Michelle explains how Heath was once the protective force around the family against the paparazzi and becoming that force takes some getting used to.
"It is because of this tragedy that there's more paparazzi. That is hard to be understanding and graceful about."
Matilda has had her own bouts with the increased amount of publicity surrounding her father's death. She recalls when she accompanied Matilda to a neighborhood coffee shop where a fellow child asked Matilda, "Are you sad your daddy died like Michael Jackson?"
Needless to say, the world scrutinized Michelle and Matilda after the death of Heath, waiting for a meltdown or outbreak of some kind. Spectators have been disappointed -- while times are tough for this tiny family, they prove that love does indeed conquer all.
"I am falling more and more in love with her Matilda."
The healing process may not be over yet for Michelle, but she seems to becoping amazingly well, adding that she is becoming the parent and person that she wants to be.