NEWS
Michelle Williams Strips Down to Lingerie as Marilyn Monroe for 'GQ' Magazine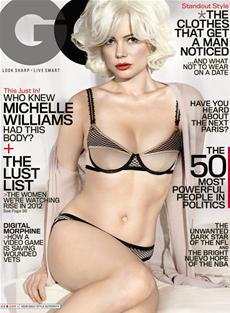 Article continues below advertisement
Playing Marilyn marked Michelle's first return to a sexy character since her days on Dawson's Creek.
"I wouldn't say that that would be one of my first qualities as a human being — being sexy," Michelle tells GQ magazine. "And I think because my character on Dawson's Creek was sexy...sexualized...sexual...I saw all the negative attention and connotations that can come along with that. And that those things can keep people from seeing you clearly."
Now, Michelle wants to embrace her sexuality.
"It's funny spending your 20s running away from it, and then you hit your 30s...wait a second! Come back! I want that time back when I didn't appreciate what I had!" she says. "That kind of ripe sexuality; when you hit your 30s you feel more in possession of it, you feel it's not something that can be sort of taken away from you and reassembled."
OK! GALLERY: GOLDEN GLOBE WINNERS KATE WINSLET, OCTAVIA SPENCER, MODERN FAMILY & MORE!
MORE ON:
michelle williams
Article continues below advertisement
As for Michelle's love life, she's no longer in a hurry to find a new dad for her daughter Matilda — but she used to be.
"Because I really wanted, and I really expected, or imagined, that Matilda would have siblings that were close to her age," Michelle explains. "I wanted that for her. But I couldn't make that happen. And now that she's 6 that isn't even a possibility anymore. So something that was making me feel impatient, that's been removed. For whatever reason, that's not our luck, or our path."
What do you think of Michelle's sexy Marilyn cover?