NEWS
Michelle Williams Talks 'My Week With Marilyn'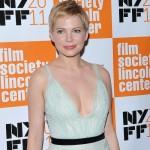 The highly anticipated release of My Week With Marilyn starring Michelle Williams certainly lived up to all of its prior hype. Michelle truly captured the essence of Hollywood's first screen queen, Marilyn Monroe in this adaptation of a true story.
It was a character to whom Michelle felt akin to. At My Week With Marilyn's world premiere at The New York Film Festival last night, she explained to reporters how Marilyn still lives within her, "She still kicks around. I still feel her sometimes."
Article continues below advertisement
VIDEO: WATCH MY WEEK WITH MARILYN TRAILER STARRING MICHELLE WILLIAMS
To bring herself even closer to the original blonde bombshell, Michelle followed Marilyn's exact footsteps during filming. "There were so many little parallels along the way that sort of gave you courage. My dressing room in Pinewood was the same dressing room that she used. Parkside House where we shot was the real Parkside House," Michelle said.
MORE ON:
michelle williams
OK! NEWS: MICHELLE WILLIAMS CHANNELS MARILYN MONROE ON NEW VOGUE COVER
The premise of the movie drew from the diaries of film veteran, Colin Clark. The film takes place in the summer of 1956 as Marilyn Monroe makes her mark in the UK for the first time as she films The Prince and The Showgirl. Here, we see different sides of Marilyn portrayed through an unforgettable performance by Michelle. The film focuses on Marilyn's love affair with Colin Clark as well as her struggles to handle all the pressures that fame and fortune can hand you.
Reported and written by Evan Real