NEWS
Mickey Gets Rourke-us at Paris' Party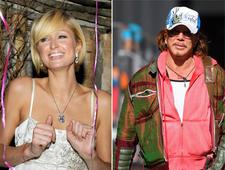 Mickey Rourke has never been known for his refined manners.
But, even for the tough-guy thespian, it's a little uncouth to walk into the middle of someone else's birthday bash and declare: "I'm having my own party!".
But that didn't stop Mickey...
On Feb. 16, Paris Hilton held a big party for her 28th birthday at NYC nightclub Butter, decking the halls and walls of the celeb haunt with balloons, decorations and an enormous cake.
Article continues below advertisement
She invited along Eh?-List pals Aubrey O'Day, former N'Sync-er JC Chasez and the Lohan-baiting billion-heir Brandon Davis along to see the big day at midnight.
Even her ex, Stavros Niarchos called in to wish her happy B-day — and the pair seemed to be up to their old tricks again, getting touchy-feely in her reserved booth.
"They couldn't keep their hand off each other," said a fellow party-goer (but that's as far as the rendezvous went — Stavros ducked out of the party alone and hopped in a cab just after 3am, while Paris ended up going for pizza with friends 20 minutes later).
But around 2am, Oscar front-runner Mickey Rourke breezed into the club — apparently unaware that he was crashing the bash.
When a surprised onlooker asked Mickey why he was at Paris Hilton's party, they got a blank look.
"Whose party?," asked Mickey. "I'm not. I don't know."
Undeterred by learning that he was intruding on Paris' proceedings, the one-time Hollywood hunk simply declared: "We're having our own party!"
Article continues below advertisement
Then Mickey lead the pretty young blond on his arm, along with an entourage of around ten revelers, into a corner booth to party the night away.
And to add insult to injury Mickey ended up being more of a hit at the hip night spot than the birthday girl!
While Paris only left her perch in her booth to breeze back and forth to the bathroom, Mickey quickly became the center of attention, chatting and shaking hand with admirers and fans wishing him luck for his Best Actor nom for The Wrestler at this Sunday's Oscars.