NEWS
Mike Kekich & Fritz Peterson Not Happy About Ben Affleck/Matt Damon Wife-Swap Film "The Trade"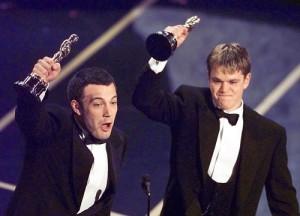 While many are overjoyed at the prospect of Oscar-winning duo Ben Affleck and Matt Damon reuniting on the film The Trade, Mike Kekich and Fritz Peterson, the former New York Yankees who the flick is based on, are not too happy. Reportedly, controversy is already surrounding the film, which recounts the 1970's "wife swap" scandal involving the two young ball players.
The scandal started in 1972 but grew into a media firestorm in 1973 when the teammates revealed the news at spring training. The trade led to Peterson and Kekich swapping wives permanently.
Article continues below advertisement
OK! NEWS: AFFLECK BROS BRINGING BRONX BOMBERS TO THE BIG SCREEN?
Allegedly, the idea for the wife-swap started with a joke between the two long-time friends over dinner.
According to the The Clarion Ledger, via the Huffington Post, "Peterson traded his wife, Marilyn, his two kids and a poodle for Susan Kekich, the two Kekich children and a Bedlington terrier."
Last year, Ben confirmed to MTV that he and brother Casey Affleck were writing "the next draft" of The Trade.
Early reports pinned Ben as writer, director and to star as Peterson opposite Matt's possible portrayal of Kekich.
"I don't know how it will come together — acting, directing, who will do it, but Casey and I decided to write it," Ben confirmed to MTV. "It's one of those things where we don't jump in and go, 'I'm going to do this, you're going to do this.' Let's write it. Let's get it to a point. Dave Mandel did a good draft. Casey and I are going to fool with it and get it to a place we want to get it to. Once the script is ready, then it's, 'Who's doing what, what's the time frame, Matt, me, Casey, directing?' "
Article continues below advertisement
So is Matt definitely involved in the project?
"I know Ben's interested in it and I'm dying to work with Ben again," Matt told MTV. "He's a great director and obviously you know what I think of him as a writer."
But Matt remains weary about putting his name on a project that involves the Yankees franchise (won't even touch a Yankee ball cap), something Ben has come to terms with.
"I've come to have a little more respect for the Yankees," he said. "They are good. There are some of those guys that, I have to say, seem like good guys. As an institution, disdain."
But will the movie go on even if Kekich and Peterson object?
The USA Today reports, Kekich, who now lives in New Mexico and has a new family, is not pleased with the film and is trying his best to get it blocked.
Susanne Kekich and Peterson are still married.
And as Ben and Matt are ardent Red Sox Fans, they may be persuaded not to bring their interpretation of the scandal to the big screen.
What do you think? Would you see the film?