NEWS
Mike Myers Credits Oprah for Love Guru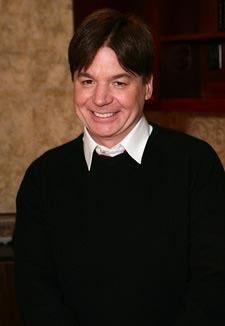 Behind every great man is a great woman, so who is behind Mike Myers' Love Guru, Maurice Pitka?
None other than Oprah Winfrey herself.
"In 1991, my father passed away -- it was around that time that I saw Deepak Chopra on Oprah laughs and I became very interested in philosophy; I read his book and loved it," Mike tells AOL.
So moved by the doctor he was that the two eventually met and struck up a close friendship. Then, one day, "this voice of the Love Guru emerged and I started to say things like 'The only way out is in' and 'Intimacy is In-to-Me-I-See,'" Mike says.
Article continues below advertisement
Dr. Chopra wasn't the only who influenced the creation of Guru Maurice. Best-selling author and Vietnam War vet Gary Zukav also served as inspiration -- and yes, Mike caught him on Oprah as well.
"I love Oprah," he says. "Oprah, I admire greatly. This experience she's having on Earth is a great one. It's an expansive one, and it's an empowering one -- she's helping a lot of people."
Though the talk show queen has played a key role in getting The Love Guru off the ground, don't expect to see her face among the cameos in the film.
Known for peppering his movies with star-studded appearances, the actor is keeping the A-listers coming in the comedy, opening friday. In addition to stars Jessica Alba and Justin Timberlake, the film will also feature appearances by Sir Ben Kingsley, Stephen Colbert, Verne Troyer and Kanye West.
"I've been very lucky that a lot of people have been in cameos in my movies over the years — what people kind of know is that it's a party, a filmed party," Mike says. "What I want to do is create a great, fun atmosphere and then put that on film."
Article continues below advertisement
Mike and Verne a.k.a. Mini-Me weren't the only ones with a past connection on The Love Guru. The comedian and Kanye share some history too. During a benefit concert for Hurriance Katrina, where the two presented together, the rapper went into attack mode, declaring that "George Bush doesn't care about black people." The comment offended a lot of people, but Mike wasn't one of them.
"I went to the Katrina telethon because I was very moved by the plight of the people in New Orleans and I wanted to make a difference," he says. "I think that the frustration that Kanye expressed was valid ... I just think you gotta tell a feller you're gonna say it. Laughs Just tell a feller, would ya?"
While he admires Kanye's audacity, Mike definitely won't be making any political comments of his own.
"I don't feel that being political is my forte — doing characters and sort of speaking what's on my mind has been something I'm more comfortable with. I admire political comedy, it's just not anything that I've ever been good at. "