NEWS
Mike Myers Shows Off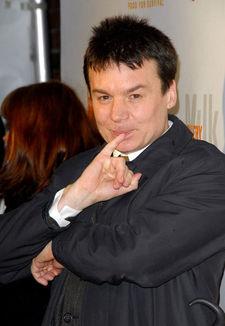 While Mario Batali goes on rumor patrol about the state of Gwyneth Paltrow's marriage and Julia Stiles tears up about missing Heath Ledger, Mike Myers lightens the mood during the Food Bank's Lunchbox Auction held Thursday at Milk Studios.
"I've had a food fight," he tells me. "There's a Canadian equivalent of the Twinkie called a Wagon Wheel, and I got hit in the eye and I got sent home. I was 12. It was the happiest day of my life. I got to watch Days of Our Lives. It was great."
Article continues below advertisement
Of all his zany characters, which one does he relate to most?
"Dr. Evil," he tells me. "Only because I've always wanted to have my own private army." Um, why does he need his own private army? "To have my own private cafeteria, hello?"
The divorced actor, 45, starred in The Love Guru with Justin Timberlake. Although Mike and Justin hang out together, they don't do nightlife.
"I don't club," he says. "If there was a club, it would be a book club where we would talk about books."
MORE ON:
Red Carpet Confidential
Looking ahead, Mike sees a more compact 2009.
"My resolution is to make sandwiches that are in proportion to the size of my lunchbox."