NEWS
Mike Myers Is A True 'Love Guru'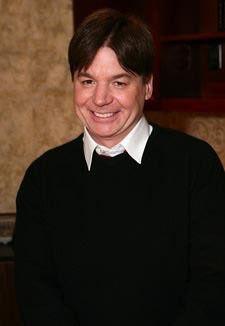 Mike Myers meets me at the Waldorf-Astoria Hotel to chat about his comedy, The Love Guru. Sipping a Coke, he unleashes a surprise burp. "Ah, the joys of Coca-Cola," he yuks. "I've had a lot of Coca-Cola today. One has to laugh at oneself. I've done that twice today. I'm not going to lie -- it's a little embarrassing."
The divorced actor, 45, likes to crack a good joke or pull a well-performed prank.
Article continues below advertisement
"I did a comedy routine last night with Heidi Klum where I put on her eight inch heels, and my calves are killing me. To all the gals, I just want to say 'how do you do it?' She had these things on, and she said 'ow, my feet hurt,' and I said 'oh they can't hurt that much.' They hurt that much. She was kind enough to overlook the fact that I was stretching her shoes a little bit, but it was funny. It got a nice laugh. I was happy."
He certainly has reason to be happy. His comedy, which also stars Justin Timberlake and Jessica Alba, is set to become box-office gold. But when asked about the comedy disrespecting Hinduism, he calls criticism unfair.
"I have presented a mythical, nondenominational fictional teaching system called DRAMA that has nothing to do with anything but DRAMA," he says. "You Distract yourself from emotional pain so that you can get to a place of rationality to Regress – look at your childhood, your family of origin, and your family has given you a belief about yourself – usually a defective belief in what's known as the shame core – that's the "R" – the Adjustment is it's up to you to rewrite what's written in that shame core, correct it – the Maturity part is that you're responsible for your own health and happiness, and the Action is the discipline to put all those concepts into action so that you may more frequently – with a longer duration and more intensity – start to live yourself not as a victim – which is a vicious and incidious congnition that impedes maturity TM. I took years developing this. This is designed to be relevant to no one except myself."
MORE ON:
Justin Timberlake
Article continues below advertisement
He says Star Wars did the same thing with The Force.
"Nobody believes that The Force is a roman a clef, a reference, an illusion to anything other than a belief into your own intuitive process."
Mike continues, "This is about taking responsibility for your own actions so that you don't have vicious and insidious cognitions that impede maturity TM. That you're not a victim. People may say bad things about you, but you won't say bad things about yourself. You are responsible for your own health and happiness. It was meticulously worked out to be its own thing."
The self-proclaimed culture vulture takes philosophy seriously. Verne Troyer, who plays a hockey coach, says Mike studied up on Deepak Chopra to help with personal issues.
"I nibble on things in comedy, but I never bite with my teeth and I never break the skin," Mike says. "I only travel with respect for all cultures. I love it. I love how things are done."
What's Mike's favorite mantra?
"I would say 'the only way out is in,' he says. "Most of everyone's problems is not owning their part in something, taking responsibility for it. I asked Gary Zukoff the definition of happiness, and he said 'to live more in truth than in lies, to hold yourself and others in high and warm regard, to place a boundary around people's dark side but accept them for it, and to celebrate their light side.' I think that's it."
He laughs at his publicist, who is wearing a towel like a shawl, when he confuses Jessica Simpson with Jessica Alba. (Jessica Simpson has a cameo; Jessica Alba plays a lead role.) Too many Jessicas!
"Thank you so much," Mike says. "Have a great day. Bye-bye now. Sorry about the burp. Gosh, I wish I could control those things. Coca-cola. Have a great day."
The Love Guru hits theaters Friday.