NEWS
Is Mike "The Situation" Sorrentino Leaving 'Jersey Shore' for the Big Screen?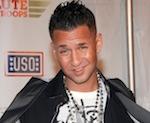 Although the cast of MTV's the Jersey Shore found instant fame on reality television, Mike "The Situation" Sorrentino is ready to move on to bigger and better things, explaining in new reports, that he is ready for the big screen.
"Hopefully by the end of the year I'll be in a movie. There's only so long you can rule the reality world," Mike told E! Online in Dallas on Friday.
The famous party animal says that he plans to leave the reality realm in another year or so to pursue his movie career.
Article continues below advertisement
OK! NEWS: MIKE "THE SITUATION" GETS PUMPED FOR BLACK EYED PEAS SUPER BOWL PERFORMANCE
"Maybe another year or so of reality, and then I'm gonna graduate to movies," Mike explained, "You gotta move on and try something different," the other Mike continued. "I love to be in front of the camera; I love performing; I love entertaining so movies is definitely the next step."
The Jersey Shore star compared his stint on reality TV to Michael Jordan's basketball career.
"It's like Michael Jordan. There's only so long you can keep winning them rings!" Mike joked to E! Online.
Good luck!