NEWS
Mike Tyson Arrested After Airport Brawl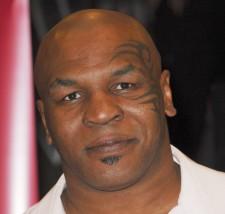 Former heavyweight boxing champion Mike Tyson was arrested on Wednesday after scuffling with a celebrity photographer at LAX Airport.
The photographer was also arrested, reports Reuters. He suffered a cut to his forehead and was taken to a hospital.
"There's a lot of different versions to the story," Los Angeles Airport Police Sergeant Jim Holcomb said. "That's all going to come out later. But in this particular case, both individuals are going to be pressing charges for battery."
Article continues below advertisement
The Los Angeles Times reports the boxer told police that the shutterbug struck him in an attempt to provoke him.
Meanwhile, the photographer claims Iron Mike punched him in the face and tried to take film from his camera.
Mike, 43, has been back in the public eye while promoting his new documentary, Tyson. He also appeared on The Oprah Winfrey Show last month to discuss the tragic death of his daughter Exodus, 4, in a freak accident on May 26.