NEWS
Mike Tyson Breaks Down Over Daughter's Death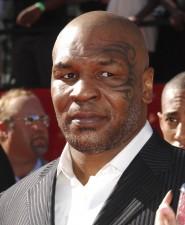 Mike Tyson broke down in tears as he described his grief after the death of his four-year-old daughter Exodus in a highly emotional interview on The Oprah Winfrey Show, Oct. 12.
The retired boxing champ's daughter accidentally strangled herself on a treadmill cord at her mother Sol Xochitl's home in Phoenix. She died the next day in hospital on May 26.
Although nearly five months has passed since the tragic accident, Mike, 43, still struggles to accept that his little girl has gone.
Article continues below advertisement
However, he doesn't want to know the details of the accident and has decided not to look for something or someone to blame.
"From all my experience in rehab, I took responsibility," he says, "She had to be buried, she had to be taken care of.
"There was no animosity. There was no anger towards anybody. I don't know how she died and I don't want to know.
"If I know somebody's to blame for it, there will be a problem."
Exodus' older brother Miguel, 7, found her unconscious after her neck got caught in the treadmill cord and her mother, who is no longer in a relationship with Tyson, administered CPR before calling emergency services.
Exodus was placed on life support, but died from her injuries the following day.
How did Mike, known for his vicious temper, cope? "My first instinct was a lot of rage and I am so happy I had the tools in life not to go in that direction. I don't want to go there, I want to win now.
"I'm just fortunate that I have children by different women and as a family we're close. That's my biggest asset. We all love each other."