NEWS
Mike Tyson's Message to Justin Bieber: "My Daughter's Madly Crazy About You Man"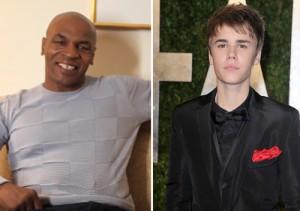 Mike Tyson left a very sweet message for Justin Bieber on his Twitter feed. The boxing champ finally had a chance to see Never Say Never with his daughter, and he was so impressed, he voiced his accolades in a video.
"I took my daughter to see it," Mike said in the message of JB's box-office blockbuster that swept the nation in 3D! "She's madly crazy about you, man. I just wish you the best of luck. It's a very inspirational movie. I wish people could go and see the politic effect it has on everyone. I wish you the best of luck in life, my friend. Take care."
Article continues below advertisement