NEWS
Mila Kunis Admits: "I've Never Dated, I Don't Know What It's Like to Date"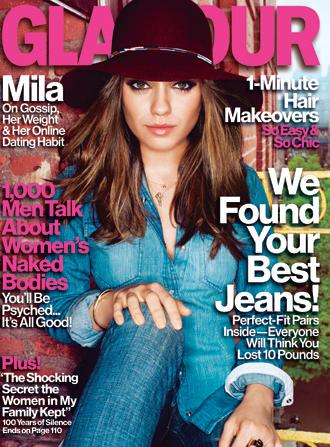 Mila Kunis looks bohemian chic with a floppy hat and matching denim shirt and jeans on the August cover of Glamour.
The Ted actress gives an unusually candid interview with the magazine, opening up about the evils of the paparazzi, her love of OKCupid and how she's never been on a date.
OK! GALLERIES: MILA AND JUSTIN ARE GOOFY FRIENDS WITH BENEFITS ON SET
"It's online shopping!" she says of dating sites."One of my really good friends met her fiancé on an OKCupid style website... If I didn't do what I do, I would do Internet dating instead of going out to bars. It makes so much more sense."
Article continues below advertisement
Mila's even a pro at writing "About Me" sections for her pals and messages prospective dates, feeling the waters out for her friends.
"I'm very honest and blunt," she says about the poor saps who have no idea they're matching wits online with Mila Kunis.
Regardless of the fact she's one of the most sought after actresses in Hollywood and continuously tops hot lists for men's magazines, she claims to not date and never has. She ended an eight-year relationship with Macaulay Culkin last year and has been linked to several men since.
"I've never dated. I can say this honestly: I don't know what it's like to date," she admits. "But also, how am I going to date? I'm not in one state long enough."
OK! NEWS: MILA KUNIS CALLS ASHTON KUTCHER DATING RUMORS ABSURD
So what about those Ashton Kutcher romance rumors? Bogus? Any truth to them?
"Ninety-nine percent of it is bulls**t. That is the biggest form of bullying ever, the paparazzi. Printing lies, making accusations, it's just bullying."
Regardless of her seemingly nonexistent love life (unless Ashton is part of that 1% that's not BS), she'd gladly trade her film career for a husband and family.
"This isn't the right time for me to have one, but I do want a family. I'd rather be in love and have a baby than have a movie."