NEWS
Mila Kunis Loves Work, Hates Cold Showers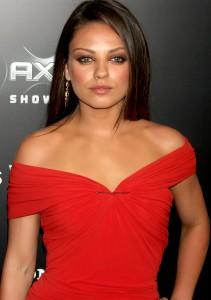 For Mila Kunis, enjoying her job is top priority.
"I genuinely love what I do, and I don't look at it as work," Mila, 27, says at her Friends With Benefits premiere held this week at NYC's Ziegfeld Theatre. "If I love the project and if I love the people I'm working with and waking up at 4:00 in the morning's OK … you work 20-hour days, and you want to enjoy those 20 hours, so you try to surround yourself with people you like."
Article continues below advertisement
She isn't always a ball of sunshine, though.
"Not the sex scenes, but the scenes when they're in the shower naked together - it was 40 degrees," director Will Gluck says. "We had a closed set. I remember them yelling out 'why is it so cold?' and I said 'because you wanted a closed set!' They were not happy about that scene."
He thinks Justin and Mila are perfect together onscreen.
"I thought they were a great combination. They're both funny, great actors, not too bad to look at. We developed the script together, and decided to rewrite the entire script in their voices."