NEWS
Mila Kunis Says the Expletive-Filled Language on 'Mob Wives' Is "Gorgeous"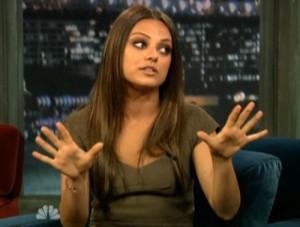 Mila Kunis is busy promoting her new film Friends With Benefits — and accepting Marine Ball invites — and last night was Jimmy Fallon's turn to interview the young, hot Hollywood actress. And Mila made one thing clear — she is a reality TV junkie!
"What don't I watch?" the 27-year-old actress told Jimmy. "Apparently I love New Jersey, because I watch Jerseylicious and Jersey Shore."
Article continues below advertisement
And she really can't wait to see Snooki's guidette ways on season four of the Jersey Shore — filmed in Italy.
"She hits a police car, and I don't even think the car was moving!" Mila said. "It was parked!"
Mila also loves Top Chef, Celebrity Rehab with Dr. Drew and Mob Wives.
OK! VIDEO: WATCH JERSEY SHORE SEASON 4 EXPLOSIVE NEW TRAILER
"I've never heard more curse words being put together in one sentence that were so eloquently said," she said of the ladies' language on Mob Wives. "It's gorgeous."