NEWS
Miley Cyrus Asks You to Pray for Her Dog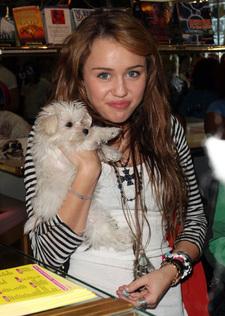 Doesn't matter whether you're a world-famous, box-office breaking singing and dancing superstar like Miley Cyrus, there are still few things that make you feel more helpless than watching your canine companion fall ill.
That's why the Hannah Montana star has reached out to her friends and fans to ask for their thoughts and prayers after her Malti-Poo Sofie fell ill.
"My puppy is sick :( please pray," the 16-year-old wrote earlier Thursday afternoon on her <a href="https://twitter.com/mileycyrus" target="_blank">Twitter page</a>.
Article continues below advertisement
A few minutes later, she once again Tweeted about the ordeal, this time to blogger Perez Hilton. "r u a puppy lover?" she asked Perez. "plz pray for sofie :("
We here at <em>OK</em>! love animals of all kinds — especially adorable little puppies like Sofie — so our thoughts and prayers are with Miley and the Cyrus family.