NEWS
Miley Cyrus Doesn't "Listen to Criticism"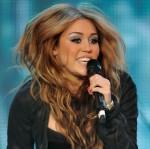 Teen sensation Miley Cyrus has begun her post-Hannah Montana career with a controversial new adult sound and a video to match, but she doesn't care about the haters, declaring,"I'm the artist and that's the art that I'm doing."
As she films the final episodes of Disney's Hannah Montana, the show she auditioned for as an 11-year-old, Miley reflects on reactions to her new direction.
Article continues below advertisement
"I don't really listen to criticism because if you don't want to watch my video you can always turn it off. Or if you don't want to listen to my music you don't have to," she tells Entertainment Tonight.
"So I've never been one to really care about what people think, because I'm the artist and that's the art that I'm doing."
OK! NEWS: MILEY TAKES BRITNEY COMPARISON AS A COMPLIMENT
Her dad Billy Ray Cyrus adds: "I think Miley's new video is rocking. The song itself, my goodness, I hope people talk about the the fact that she wrote the song rather than someone was wearing feathers, but if they talk about both, that's fine."
Meanwhile, the "Can't Be Tamed" singer is happy that Hannah Montana is now coming to an end. "I'll be 18 this year," she says. "Definitely you do a lot of growing, and that's hard to do on a show that does have a lot of restrictions as well.
OK! NEWS: KELLIE MARTIN'S MESSAGE TO MILEY: GO TO COLLEGE
"Once you put them in college, it's like, 'Okay. Then Hannah Montana does what?' So, it's kind of hard to keep it going when there's only really so much you can do with the character that can only grow so much," she continues.
"For Miley, myself, the cast, the crew, everyone — it's just the right time to end this chapter and begin a new one," Miley's dad and Disney co-star says.
OK! NEWS: DOLLY PARTON DEFENDS THE "UNTAMED" MILEY CYRUS
"Miley as a singer and a songwriter, she knows where she wants to go… I think she'll always be growing as an artist."