NEWS
Miley Cyrus Feels Fame's Pressure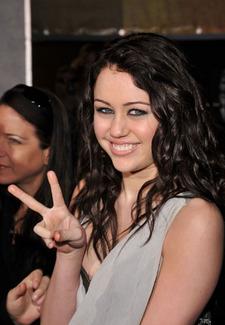 Fifteen- year- old singer and actress Miley Cyrus knows that fame comes with the inevitable pressures felt by former teen stars like Britney Spears and Lindsay Lohan, but she says she's doing her best to keep it all in perspective.
"I understand... the pressure is definitely hard," the young star tells TV's Extra at the premiere of her Hannah Montana movie, "but I think just keeping your head on your shoulders is easier than it looks. I think if you know who you are, then I think you'll be fine for the rest of the way."
Article continues below advertisement
When asked about the recent scandals involving Britney, Miley's heart goes out to the troubled mother of two. "I think it's so crazy and I think that she needs help. If I didn't have my family, I'd probably be in the same position," Miley explains, adding, "you've just got to know who your true friends are and I think for me, that's my mom. If you have sisters, I mean any girls that are in your family, that can understand and relate to you, I think is the best."
To check out the full interview for yourself, tune in to Extra on Friday.