NEWS
Miley Cyrus: "Finally Happy Again"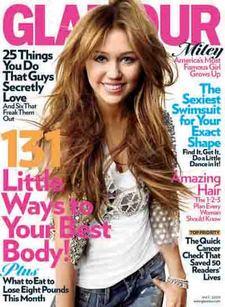 The days of 16-year-old Miley Cyrus denying her relationship with underwear model Justin Gaston, 20, appear to be long gone.
"I don't feel like I'm doing anything wrong, and I'm ready for people to accept it," she tells the May issue of Glamour of dating the older man. "My fans already accept it – they just want me to be happy. And I haven't been that happy in a few years...working so hard, moving to L.A. from Nashville, going through a bad breakup with Nick Jonas."
Article continues below advertisement
For the teen phenom, who seems to have everything with the huge success of her role as Hannah Montana, the joy is finally returning to her young life because of Justin, she says.
"I'm finally happy again, and I think that is reflected in my music and my work. So honestly, I don't feel like there's anything to hide," she explains. "And I love him so much I don't really care."
PICS OF MILEY AND JUSTIN'S DATE NIGHT:
Despite all the fame she's attracted in just a few short years, Miley says she's realized that she can only trust probably four of her friends with her real life and personal information.
"There's my best friend, Mandy; I can tell her anything without being judged.There's Jason Earles, who's on my show – he's like a big brother to me. There's my big sister, Brandi. And the best thing that's happened to me in a long, long time has been meeting Justin, because he's the most respectful and selfless person I've ever known."
Miley recounts her experience meeting her boyfriend, when her dad Billy Ray Cyrus introduced them on the set of Hannah Montana.
"I looked so bad that day. I was wearing sweats and glasses and we talked," she remembers. "Then he showed up the next day and said, 'I can't stop thinking about you. Can I take you to a movie?' When he took me home, I said, 'I don't want to get close to you, because I don't know where this is going to go. And he said, 'Well, you can't live like that. So we took a three-mile walk, and talked and talked. And I felt 10 pounds lifting from my shoulders. Now he's my best friend."