NEWS
Miley Cyrus Focusing on Her "Career," Not College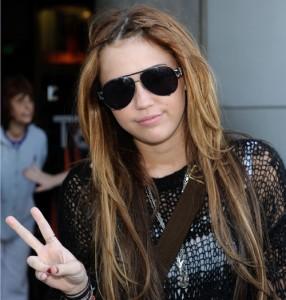 Miley Cyrus may be preparing to graduate high school, but the pop sensation is in no rush to move on to higher education.
"My sister went to Middle Tennesee State University in Nashville, so I'd probably want to be there with all my friends, but I'm not gonna go to college right now," Miley told Atlanta's Q100 Bert Show yesterday (via Access Hollywood).
Article continues below advertisement
Miley feels there is always time to go back to school.
"I am a firm believer that you can go back at any age you want, because my grandma went back to college at 62," she said. "If I ever want to go back, I'll go back… but for right now, I just really want to focus on my career. I worked really hard to get to this point and I want to enjoy it while it lasts."
Besides her academic future, Miley also took the time to clear up some rumors about her and fellow teen sensation, Justin Bieber.
"We're strictly friends" Miley said. "He's very cute, I get it!"
Miley has been dating Aussie Liam Hemsworth since their co-starring days in her most recent film The Last Song.
"I have my travel-size boyfriend Justin and I have my oversized security boyfriend Liam," she said with a laugh. "It's perfect! Justin is my on-the-go boyfriend and my bodyguard boyfriend is Liam."