NEWS
Miley Cyrus Opens Up About Self-Worth & How She Really Feels About Being a Teen "Sex Symbol"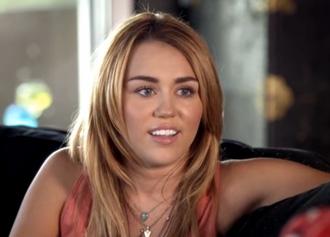 Miley Cyrus always seems to be a part of a larger discussion, whether it's concerning relationships, weight loss, child stardom or music.
But Miley admits she's sick of putting on a show and is ready to just embrace who she is and let go of what she's "supposed" to be as a 19-year-old Hollywood star. If you think she's sexy, good! She's OK with that.
"If people find that I am sexy, I take it as a compliment," Miley revealed in a candid interview on Lifetime's The Conversation with Amanda de Cadenet last night. "Thank you for thinking I'm sexy!"
Article continues below advertisement
OK! GALLERY: MILEY CYRUS FLAUNTS HER TONED TUMMY IN A CROP TOP AND SPANDEX WHILE LEAVING PILATES CLASS IN L.A.
Miley is tired of people expecting something from her and just wants to speak her mind and do what makes her happy.
"I feel I was so trained in my interviews to be All-American or whatever," she explained to Amanda de Cadenet. "I just got so set in the way of saying the same things I did when I was 12 years old. I guess I kind of realized that my whole life isn't one giant press junket. I don't have to be smiling all the time and always have the perfect answer."
And although Miley admitted she has always hated being alone, she started to crave solitude after super stardom became too much.
"I had to smile so much and I had to say so much of the same thing," Miley admitted. "I finally had to look inside and say, 'What do I really think about this? Do I really that or am I just trained to say that? Or have I said it for so many years now that that's what people expect me to say, so now I say it so I don't have to say something else and be creative."
Article continues below advertisement
Miley also explained that the release of her single "Can't Be Tamed" was a big moment for her, not only because it presented her in a more mature way, but it made her realize what people really think about sexualization.
"People are so scared of seeing a woman being like, 'This is who I am and you're not going to change it,'" she explained. "Even just the title of that, for a woman to say she can't be tamed. . . for a woman in the world with my face saying 'I can't be tamed' when that's really all people wanted to do, I think proves how sexist people still really are," Miley added, telling Amanda that society wants her to "be sexy... but our way."
OK! NEWS: MILEY CYRUS' DRAMATIC WEIGHT LOSS — IS SHE TAKING IT TOO FAR?
On an end note, Miley reflected on who she is and what she'd say to her younger self.
"There's times when you hear what you should be so much, that you actually lose what you are," Miley explained.
"I always say, if I met me, would I really like me? Would you want to be your friend? We always judge people and we put people down about the things that we don't like about ourselves," Miley added, saying that she's sick of young girls basing their self-worth on the sexual standards of our society. "Your worth isn't based on sex, your worth is based on how you feel about yourself."