NEWS
Miley Cyrus Responds to Anorexia Rumors on Twitter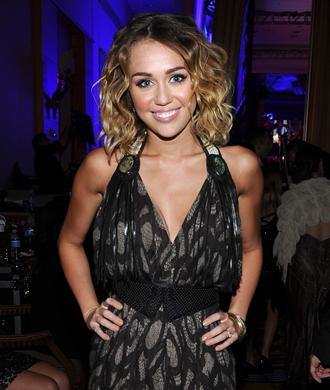 We have watched Miley Cyrus grow from spirited youngster on Hannah Montana to beautiful woman in The Last Song.
But as she has been hitting the red carpet pretty consistently in past few months on the arm of her Hunger Games boyfriend, Liam Hemsworth, it has also been noticed how much she has slimmed down.
OK! GALLERY: THE HUNGER GAMES L.A. PREMIERE WITH JENNIFER LAWRENCE, LIAM HEMSWORTH & JOSH HUTCHERSON
Article continues below advertisement
And then on Sunday, Miley Tweeted a photo of herself with a bag from Carl's Jr. saying: "I can't eat it. So I'm just gonna smell the s--t out of it! My mouth is LITERALLY watering."
Reports have been accusing Miley of suffering from anorexia, but the "Party in the U.S.A." singer is hitting back at those rumors on Twitter: She is not anorexic!
Miley Tweeted: "For everyone calling me anorexic I have a gluten and lactose allergy. It's not about weight it's about health. Gluten is crapppp anyway!"
OK! GALLERY: MILEY CYRUS BARES HER TONED TUMMY AS SHE LEAVES A PILATES CLASS IN L.A.
It seems that due to Miley's allergies, she has had to give up gluten, and the weight has just dropped off. Add on to that her newfound love for Pilates, and you've got an explanation for the drastic weight loss.
This isn't the first time the actress has been attacked for her weight. Back in November, critics said she had gained too much weight! The weight battles just never end in Hollywood, do they?
Stay healthy, Miley!
Do you think she has lost too much weight?