NEWS
Miley Cyrus in Sex and the City 2?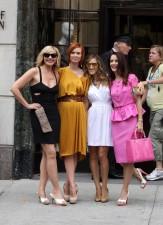 We'll have to wait until May 2010 to see the hotly anticipated Sex and the City sequel, but rumors are already swirling about the movie's potential A-list guest stars. Now there's talk that Miley Cyrus will have a role in the flick.
According to Gossip Cop, Miley, 16, who doesn't have a speaking part, appears in one scene of the movie. "The Party in the USA" singer wears the same dress on the red carpet as Kim Cattrall's character (sex-obsessed Samantha Jones) who buys it to look "hot and young."
Article continues below advertisement
Stylist Anthony Marantino, played by Mario Cantone, freaks out, exclaiming, "Mother of God: She is wearing the same dress as Hannah Montana."
Fans of the feisty fashionistas have been tantalized by the flashback scenes recently filmed in NYC. Sarah Jessica Parker's Carrie Bradshaw is a Madonna wannabe, Kristin Davis' Charlotte York Goldenblatt is a preppy purist, Samantha is a rock chick while Miranda Hobbes, played by Cynthia Nixon, showcases some power dressing not seen since Working Girl.
"It was so much fun to relive the wild and crazy fashions of the '80s," says Kim, 53. "I absolutely loved the four different looks of all of us. We were all so uniquely different that we all couldn't stop admiring our different looks. There was lots of laughing, and it was a blast!"