NEWS
Miley Cyrus Talks About Her One True Passion—And Drops New Deets on Her Upcoming Album!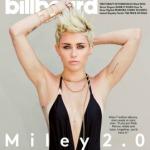 Miley Cyrus has been busy reinventing herself and her music—and the results so far are pretty impressive. Luckily for fans, the singer's entire journey will be mapped out on her upcoming untitled album that's scheduled to drop soon.
OK! Poll: Who Rocked the Two-Tone Denim Look Better: Rihanna or Miley?
"That's been kind of a trip: It's not like I'm losing who I am—I actually found out more about who I am by making this music," Miley tells Billboard. "I'm going on a journey, and that's more than a lot of 20-year-olds can say. And I'm still going to change so much. Because I'm not the same person I was six months ago—I'm not even the same person I was two weeks ago."
Article continues below advertisement
Watch: Selena Gomez Is Saying Goodbye to Music—Find Out When and Why
But one thing that is a constant in Miley's life is her fastidious work ethic. "I never stop working, ever—I put my track list together this morning," she says. "I want my record to be the biggest record in the world, and I've given everything to get here, even down to friends and family and relationships—I've just put this music first."
Watch: Check Out Usher's Cool New Short Film "Looking 4 Myself"
Miley reveals that she's using her life as inspiration for tracks that include collaborations with Pharrell, Will.i.am and Dr. Luke. "I'm 20 years old and I want to talk to the people that are up all night with their friends," she says of her catchy new single "We Can't Stop." "It's based on a true story of a crazy night I had: When I heard the song for the first time, it captured exactly what I was living."
Love it or hate, Miley says her upcoming album, which she refers to as pop and not hip hop, shows that she's "moving over to a more urban side."
"I can't really be told what to do right now," Miley says of her life's biggest passion—music. "I'm too young to go in and make someone else's vision come to life. I want to go make my visions."
What do you think of Miley's new sound? Will you buy her album when it's released? Tell us in the comments section or on Twitter @OKMagazine.