NEWS
Miley Cyrus Trashes 'Twilight'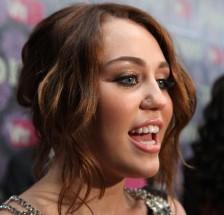 Miley Cyrus is known for her straight-talking style (after all she recently admitted that she'd never heard a Jay-Z track despite singing about him on her hit "Party in the USA") but she's now confessed that she "doesn't like" Twilight. Can it be true?
The Disney star dissed the hottest movie phenomenon of the decade in an interview with Q92 radio via Celebuzz Nov. 15, and she didn't mince her words.
Article continues below advertisement
Asked whether she was on Team Edward or Team Jacob she said, "I've never seen Twilight, nor will I ever. I don't believe in it. I don't like vampires, I don't like any of the stuff.
"I don't like the wolf that pops out of the screen when I'm watching TV at night, I don't want anything to do with it. I don't like the shirts."
Miley has spoken!