NEWS
Miley Cyrus Tweets About Engagement to Liam Hemsworth: "All My Dreams Are Coming True"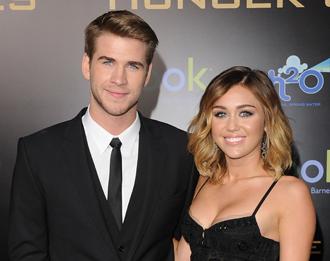 It's a special day for Miley Cyrus and her future husband, Liam Hemsworth! This morning, Miley and Liam shared the news of their engagement and the Twitterverse went crazy. Even Miley herself took to Twitter to thank fans and rave about engagement bliss!
"Thank you for all the love today :)" Miley wrote this morning. "I'm happy to share this news with you all. I feel like all my dreams are coming true. ❤ have a great day."
Article continues below advertisement
OK! GALLERY: MILEY CYRUS & LIAM HEMSWORTH ARE ENGAGED: CHECK OUT THEIR LOVE STORY FROM THE BEGINNING!
Miley, 19, and Liam, 22, who met on the set of the movie adaptation of Nicholas Sparks' romance novel The Last Song in 2009, have been dating for three years, currently live together and have five fur children — dogs Lila, Floyd, Ziggy, Happy and Mary Jane. They're already a family!
"Congrats to @MileyCyrus and Liam on their engagement," Nicholas Sparks Tweeted to one of his favorite on and off-screen couples.
Even Jordin Sparks and Rita Wilson sent their love to the pair, with Jordin writing, "Omg!! Congrats @mileycyrus!!" and Rita responding "@JordinSparks Loved seeing them together in Arizona a few months ago. Best wishes to you @mileycyrus."
OK! NEWS: MILEY CYRUS & LIAM HEMSWORTH ARE ENGAGED!
And the bride-to-be was thrilled by the sweet messages, Tweeting, "@RitaWilson @jordinsparks thank u both so much :) ❤."
Such an exciting time for Miley & Liam!