NEWS
Miley Gushes Over Justin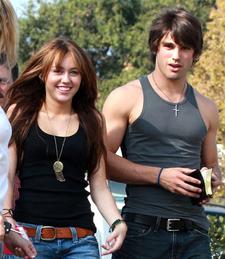 Basically confirming what everyone else already knows, Miley Cyrus told Ryan Seacrest that she's "maybe, maybe not" dating 20-year-old underwear model Justin Gaston.
The maybe response came after Ryan approached the topic on his KIIS FM radio show this morning, saying, "I keep seeing you walk around with a guy that I think is too old for you."
"Well..." Miley says with a pause, "I think you're too old."
Article continues below advertisement
Click here for OK!'s Mega Miley gallery!
The affable radio host keeps at it, asking, "So, are you going out with him?"
"Why do you want to know? You have a crush on me?" Miley giggles.
After calmly explaining that no, he can't have a crush on the 15-year-old, Ryan emphasizes that her fans want to know the truth about her and Justin and whether or not they're together.
"Maybe, maybe not," she demurs.
Okay, so, if she was hypothetically allowed to date him, would she be?
"Yes, but I just think that right now everything is really good so I haven't really been answering the question much because we're just happy with everything the way everything has worked out," Miley reveals.
"He's been a really great friend," the tween sensation continues. "There's a lot going on, everyone started judging us as soon as we started hanging out. I've learned not to judge and just go into our friendship with an open mind and not worry about the age and everything. Our families are like, whatever happens happens, no matter what he's a great friend."
Whooooaaa Miley! Sounds like someone's in love!
After going on about her man for a bit longer, the Hannah Montana star finally pauses and giggles, "I'm totally gushing right now!'
Yes, Miley, yes you are.