NEWS
Miley, Kelly Reveal What Makes Divas Happy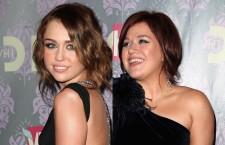 Even though showbiz is filled with tales of outrageous tantrums and requests, what makes the music industry's most glamorous stars feel content couldn't be more ordinary. No white flowers or "green M&Ms only" here...
Kelly Clarkson, who says she's wearing a "diva feather" on her midnight-colored gown, ushered in 2009 with the single My Life Would Suck Without You. Who or what makes her feel that way?
Article continues below advertisement
"Probably my family and my friends, I guess," Kelly tells me on the red carpet during VH1 Divas. "That's the cheesy answer, but it's totally true for me. I live in Texas with my family, and they keep me grounded and they're fun. My little nieces and nephews are killer. I don't know – I love 'em."
For Miley, joy can be found on her pillow.
"Sleep!" Miss Hannah Montana says. "The best way I think is to just take yourself out and dream for a little while, so I love just laying in my bed and watching movies and eating popcorn and reading all the Harry Potters and whatever, so that's fun."
She also delights in her music, meeting her idols and maximizing her potential.
"Party In The USA is one of those songs that makes you happy," she says. "When you put it on, you want to sing to it. That's really important for me to have a song like that that's light-hearted."
The Climb is also putting a smile on Miley's face.
"That's the reason why I want to be a singer – to sing songs like The Climb. There's not many songs like that on the radio. There's not many songs that you turn on, and you feel like you're a better person after listening to it, and I feel like that song is something people want to hear, especially in trying times."
Article continues below advertisement
How would she feel if she got a Grammy nomination for it?
"Um, stoked," Miley says. "I'm not going to get my hopes up though."
Being here tonight with Sheryl Crow is something Miley cherishes.
"She's really my inspiration, and someone I've looked up to since I was little," Billy Ray's daughter says. "To be here with her is really sweet. She really takes me in as her own and shows me the ropes. I love hanging out with her."
She continues, "We were over there with the cameras, and Sheryl was like 'this is so weird.' I was like 'I don't like it either. I don't like everyone yelling my name.' And the fact that she's been doing it all this time, and still thinks that, it's just nice to see someone that it doesn't change."
New mom Jennifer Hudson celebrated her birthday earlier this month.
She tells me, "My birthday was special this year because I have a new baby. I'm a mom for this 28th birthday of mine, and it's like 'wow.' That's all I wanted to do was spend it with my child."
Article continues below advertisement
Her definition of a diva? "Definitely self-confident, in control, very focused and talented," she says.
Leona Lewis has a new single called Happy. What makes her happy?
"What makes me happy is my family because they give me all the love and support that I need," the British singer tells me.
Liza Minnelli is pleased that the young'uns are performing. "These kids work so hard, and they're so intense, and they've given their all."
Sneak attack! How does she feel about Michael Jackson's passing?
"All I can say is that he is one of the greatest entertainers we've ever had. He is a dear friend, a close, close friend, and the rest is mine."
Jordin Sparks is pleased to be part of the evening, following in the footsteps of her idols Whitney Houston, Mariah Carey and Aretha Franklin.
"It's amazing for me because other girls who are going to be watching this show, like, 'I want to do that.' I'm so excited to be here. I cannot wait to perform."
Pick up the OK! on newsstands now for more coverage of VH1 Divas. The cover line is Jennifer Aniston: "Pregnant at 40!"