NEWS
Miley to Perform During Macy's Parade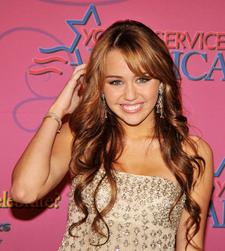 Everyone knows the real star on Thanksgiving is that most delicious of stuffed, sleep-inducing birds – the turkey, of course – but Macy's has also added a few other attractions to distract you from football this year.
The usual helium-filled cartoon balloons will waft down Broadway in NYC on Nov. 27 in the 82nd Annual Macy's Thanksgiving Day Parade, but keep one eye on the sky and the other on the floats for a string of celebrity performers.
Article continues below advertisement
Tweens everywhere are sure to be thankful that Miley Cyrus tops the list of performers who will entertain paradegoers and those watching on TV during the live broadcast.
CLICK HERE for OK!'s Miley Mega gallery!
David Archuleta, Kristen Chenoweth, James Taylor, the Cheetah Girls, Darius Rucker and Trace Adkins will also perform live during the parade, along with 900 clowns. The festivities will start at 9 a.m. ET and continue on until noon, hosted by Today show hosts Meredith Vieira, Matt Lauer and Al Roker.