NEWS
Miley Rakes in the Cash at the Box-Office!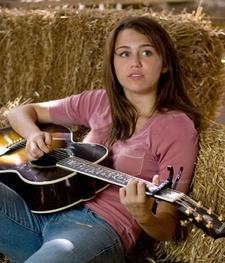 When the Jonas Brothers movie opened in March to middling box-office numbers, many were predicting the end of the Disney star era and prospects were not great for the long-awaited Hannah Montana movie starring the teen queen herself, <a href="https://okmagazine.com/search/miley" target="_blank"><strong>Miley Cyrus</strong></a>. But the 16-year-old proved the doubters wrong — at least for one weekend — by taking in $34 million and topping the list of this weekend's big earners.
Article continues below advertisement
In fact, Miley's movie was not only almost triple that of the Jonas' opening weekend gross, it was also an improvement over her first weekend earnings for last year's hugely successful concert film.
Of course, the only debut worth noting over the weekend was the Seth Rogen mall-cop comedy, Observe & Report, which only earned $11.1 million.
PICS FROM THE HANNAH MONTANA FILM:
<a href="http://www.okmagazine.com/pixandvids/gallery/13160/1" target="_blank"><img src="https://d-images.okmagazine.com/img/photos/large/25657.gif" height="100"/></a> <a href="http://www.okmagazine.com/pixandvids/gallery/13160/2" target="_blank"><img src="https://d-images.okmagazine.com/img/photos/large/25656.gif" height="100"/></a> <a href="http://www.okmagazine.com/pixandvids/gallery/13160/3" target="_blank"><img src="https://d-images.okmagazine.com/img/photos/large/25655.gif" height="100"/></a> <a href="http://www.okmagazine.com/pixandvids/gallery/13160/4" target="_blank"><img src="https://d-images.okmagazine.com/img/photos/large/25654.gif" height="100"/></a> <a href="http://www.okmagazine.com/pixandvids/gallery/13160/5" target="_blank"><img src="https://d-images.okmagazine.com/img/photos/large/25653.gif" height="100"/></a>
<a href="http://www.okmagazine.com/pixandvids/gallery/13160/6" target="_blank"><img src="https://d-images.okmagazine.com/img/photos/large/25652.gif" height="100"/></a> <a href="http://www.okmagazine.com/pixandvids/gallery/13160/7" target="_blank"><img src="https://d-images.okmagazine.com/img/photos/large/25651.gif" height="100"/></a> <a href="http://www.okmagazine.com/pixandvids/gallery/13160/8" target="_blank"><img src="https://d-images.okmagazine.com/img/photos/large/25650.gif" height="100"/></a> <a href="http://www.okmagazine.com/pixandvids/gallery/13160/9" target="_blank"><img src="https://d-images.okmagazine.com/img/photos/large/25649.gif" height="100"/></a> <a href="http://www.okmagazine.com/pixandvids/gallery/13160/10" target="_blank"><img src="https://d-images.okmagazine.com/img/photos/large/25648.gif" height="100"/></a>
Article continues below advertisement
<a href="http://www.okmagazine.com/pixandvids/gallery/13160/11" target="_blank"><img src="https://d-images.okmagazine.com/img/photos/large/25647.gif" height="100"/></a> <a href="http://www.okmagazine.com/pixandvids/gallery/13160/12" target="_blank"><img src="https://d-images.okmagazine.com/img/photos/large/25646.gif" height="100"/></a> <a href="http://www.okmagazine.com/pixandvids/gallery/13160/13" target="_blank"><img src="https://d-images.okmagazine.com/img/photos/large/25645.gif" height="100"/></a> <a href="http://www.okmagazine.com/pixandvids/gallery/13160/14" target="_blank"><img src="https://d-images.okmagazine.com/img/photos/large/25644.gif" height="100"/></a> <a href="http://www.okmagazine.com/pixandvids/gallery/13160/15" target="_blank"><img src="https://d-images.okmagazine.com/img/photos/large/25643.gif" height="100"/></a>
<a href="http://www.okmagazine.com/pixandvids/gallery/13160/16" target="_blank"><img src="https://d-images.okmagazine.com/img/photos/large/25642.gif" height="100"/></a> <a href="http://www.okmagazine.com/pixandvids/gallery/13160/17" target="_blank"><img src="https://d-images.okmagazine.com/img/photos/large/25641.gif" height="100"/></a> <a href="http://www.okmagazine.com/pixandvids/gallery/13160/18" target="_blank"><img src="https://d-images.okmagazine.com/img/photos/large/25640.gif" height="100"/></a> <a href="http://www.okmagazine.com/pixandvids/gallery/13160/19" target="_blank"><img src="https://d-images.okmagazine.com/img/photos/large/25639.gif" height="100"/></a> <a href="http://www.okmagazine.com/pixandvids/gallery/13160/20" target="_blank"><img src="https://d-images.okmagazine.com/img/photos/large/25638.gif" height="100"/></a>