NEWS
Miley 'Super Sorry' For Spoof Video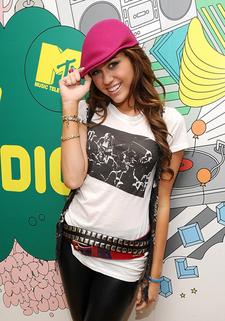 Miley Cyrus says she's "super sorry" for her spoof video that mocked her fellow Disney stars Selena Gomez and Demi Lovato.
She says that she wasn't trying to be mean -- and that the YouTube clip was actually meant to support them!
In the video (below), posted back in March, the Hannah Montana star and her best friend, Mandy Jiroux, took the original footage and cut in scenes of themselves copying Selena and Demi.
Article continues below advertisement
They poke fun at Gomez for showing off her new clothes, and even laugh at the gap in Lovato's teeth.
But now Miley, 15, has said they were just trying to be friendly.
"I mean, if we offended them, we are super sorry," Miley told Popstar! magazine.
"They have a YouTube account, so at the end of our video, we put like, go to their YouTube, you know.
"So we were kind of supporting their channel, but also being silly, because they were being funny.
"And that's our thing, to be funny, and they were being funny on their show -- and Elvis says, imitation is the greatest form of flattery."
<object width="425" height="344"><param name="movie" value="https://www.youtube.com/v/QXJMmAZAtXQ&hl=en&fs=1"></param><param name="allowFullScreen" value="true"></param><embed src="https://www.youtube.com/v/QXJMmAZAtXQ&hl=en&fs=1" type="application/x-shockwave-flash" allowfullscreen="true" width="425" height="344"></embed></object>