NEWS
Miley's Body Double Scandal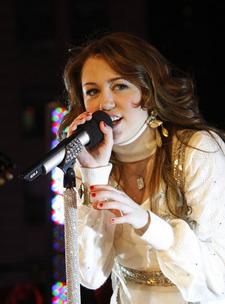 Even though teen sensation Miley Cyrus was able to weather a recent minor scandal involving some semi-racy pics of the Hannah Montana star and a female friend, some fans of the 15-year-old are feeling cheated following some apparent on stage shenanigans.
According to several fans who dished out hundreds of dollars to catch the young singer perform live on her current sold-out national tour, it appears Miley may be using a not-very-convincing "Hannah" double to cover for her during a mysterious mid-song disappearance from the stage.
Article continues below advertisement
"When it got the to bridge of the song "We Got the Party," her dancers began to crowd around her," one ticked-off Miley fan tells OK!. "Then they covered her with a black sheet and she went through a secret door. Within a second, a new 'Hannah' came out of a different door wearing oversized white glasses. The whole time this was happening Miley's vocals were still playing. The new imposter had her back turned while she danced, trying to hide that fact that she was not Miley Cyrus. At this instant I became very suspicious."
"Needless to say I was furious!" says the irate fan. "I paid good money to see the concert. I was disappointed and I felt like I was played for a fool."
Calls to Miley's rep for comment have not been returned.
By Jocelyn Vena