NEWS
The Millionaire Matchmaker: Paul's back!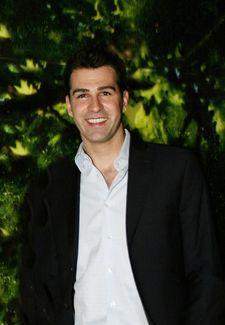 Ok, maybe I do live vicariously through the gals who scored dates on The Millionaire Matchmaker, wondering what impression I'd make if I was in the first date hot seat.
So when offered the chance to go out on one with Paul Murad, one of the millionaires from series' first season, you know I couldn't say no.
(Ah, the things I do to bring you a scoop!)?
As you may recall, the 33-year-old real estate investor from Las Vegas practically proposed to his date, Sydney, in Matchmaker's explosive finale last spring.
Article continues below advertisement
Paul's back in the series' season opener tonight, and he has an intense reunion with the lady of love herself, .
"There's a pretty dynamic discussion between us," Paul shared as we sampled healthy and delicious delectables at Rouge Tomate restaurant on Manhattan's Upper East Side.
While you'll have to watch to see where Paul and Sydney's love affair stands nowadays, I did get him to fess up on what kind of woman rocks his world.
"I don't have a particular type," Paul explained. "Intellectual aspect is very important to me, so someone who is either educated by life or formal education and can discuss politics, business and pop culture. Someone who is balanced and not an immature person, especially afterwards, if we break up."
Could that be a hint on his relationship status?
Back in Sin City, Paul is keeping himself busy with several charity projects, and he's working on another book.
Article continues below advertisement
"It's called 'How to Start with Nothing' and will show how to reach success in life and business," said Paul, who relocated to America at the age of 16 on his own.
"I've had the experience of coming from absolutely nothing and becoming successful and making the relationships that you need to leverage to achieve it."
Despite his millionaire moniker, Paul hasn't been immune to the economic crisis. "I've lost some of my financial success because of the economy," he admits. "But I know how to get it back. I want to share my experience and those of other people."
Nice to know, even in these challenging times, the American dream still lives.
Find out what goes down on the season premiere of The Millionaire Matchmaker on Thursday, Feb. 12 at 10 p.m. on Bravo.