NEWS
Minka Kelly Lives Life to the Fullest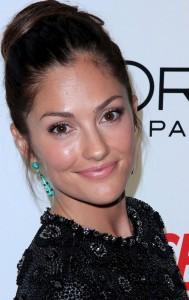 Minka Kelly has a red-hot career and a red-hot beau in Derek Jeter.
But what makes her feel truly proud?
"When I'm laughing I feel proud, because something great just happened," she tells me during the Self Magazine Women Doing Good event this week.
The actress, 30, was honored for her work with Stand Up To Cancer during the event. (Her mom succumbed to the disease.)
"It's extremely flattering," she tells me. "To be recognized for this kind of work is gratifying because people are paying attention to your cause."
MORE ON:
Red Carpet Confidential
Article continues below advertisement
Still, it doesn't take away the sting.
"Doing this kind of work doesn't ever fill a void when you lose someone, but it definitely fills you with a sense of purpose. You're fighting back for the ones you love. It makes you feel like you're not just sitting there."
She adds, "I wish well-wishes on anyone who has to deal with this. It's devastating."
Find out how you can get involved with Stand Up To Cancer.