NEWS
Minka Kelly Relates to 'Charlie's Angels' Character: "Moved Around a Lot" As a Child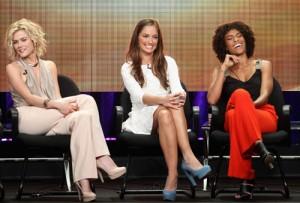 Charlie's Angels star Minka Kelly opened up at the Summer 2011 TCA Tour about how her hectic childhood of moving around a lot helped her connect to her character Eve on the show — and help her be "bad***!"
OK! GALLERY: ROBERT WAGNER BACKS OUT OF CHARLIE'S ANGELS; MINKA KELLY STARTS SHOOTING (LITERALLY)
Minka was asked by reporters at the TCA tour to explain what it is about her life and background that helped her connect to her Charlie's Angels character. It turns out, Minka has a rather emotional connection as she had a rather hectic childhood.
Article continues below advertisement
"Well, the thing about Eve is that, because she was an orphan and she was on her own her entire life and she had to fight for herself and fend for herself and survive, I think I have a lot in common with her on that aspect. I am an only child, and I was raised by a single mother, and we moved around a lot."
"I also understand what it is to create your own family," she added. "And I'm really attracted to that aspect of the show, as far as making these girls and Bosley my family. And I think that I'm not alone in that. I think there's a lot of people in the world and a lot of girls and guys out there that have that in common with myself and Eve. And it's just one of the many things that I think or that I find to be very relatable to people and why it will be really enjoyable to watch as you know, along with the eye candy and it all being so beautiful to watch, there's also a lot of there's a lot of depth and emotion as well."
How did moving around so much as a child shape the person Minka is today?
"I think it's made me very adaptable. I feel like I'm very proud of the fact that I think you could put me in any room and I would be okay," she said.
OK! NEWS: SEE MINKA KELLY BEAM OVER BOYFRIEND DEREK JETER'S 3,000TH HIT!
"It's also made you very empathetic as a person, I think," Rachel Taylor added.
"Thank you. I'll take that compliment. I'm very touched by this subject. Yeah, I think it's I think it's made me a great person. I think I've lived a lot more than maybe people my age have and seen a
Article continues below advertisement
lot more. And so I think, hopefully, that will help bring a lot of depth to this character and make her give her a lot of layers and I'm a little verklempt."
"And Eve is tough, by the way," Ramon Rodriguez said. "Eve is a very tough character. Minka may I don't know if she even knew how tough she was, but she's incredibly tough on this show."
"Thank you," Minka said.
"I mean, she's a bad***," Ramon added. "She is."
Al Gough explained, "And I think you will see and if you've seen the pilot, it's a Minka Kelly you've never seen before."
We can't wait!