NEWS
Minnie Driver Hated Being a Hollywood Star: "I Dropped to 98 Pounds & Went Bonkers"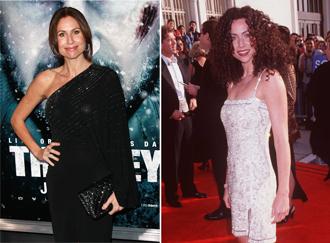 Minnie Driver may have been one of Hollywood's "it" girls in the 1990s, but that doesn't mean she was happy with where her life was going. The actress has just revealed that with her fame and fortune came self-esteem issues and a scary struggle with weight loss.
OK! GALLERY: MINNIE DRIVER SPENDS THE DAY WITH HER LITTLE MAN!
"I definitely went a bit bonkers in my early 20s, when I got famous quite quickly," Minnie, who shot to fame after starring in Good Will Hunting alongside Matt Damon, tells Stylist magazine (via Daily Mail). "Bonkers in a way where I didn't eat enough, I drank too much coffee, smoked too many cigarettes, cried a lot and was very emotional."
Article continues below advertisement
Minnie, now 42 and a single mom to 3-year-old son Henry, admits that her sister, Kate, intervened when she realized Minnie was headed down the wrong path.
"My sister showed up one day and said, 'I don't recognize you. You weigh 98 pounds, and you're behaving like an idiot.' "
That's when Minnie decided to leave Los Angeles for a while and return to England to get better and reevaluate her career.
"Hollywood is portrayed in this super-glamorous way, but when I see pictures of actresses going off the rails, it doesn't surprise me at all," Minnie admits. "You have to have solid family and friends."
Minnie is ready to tell her story in an autobiography, saying, "I want to tell it from the view of someone who was normal but whose life became abnormal."