NEWS
Miranda Lambert Fancies Farm Animals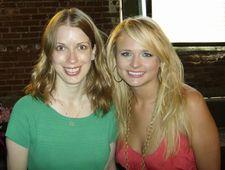 Miranda Lambert is a country gal at heart. Her farm is filled with all kinds of animals.
"I got my first turkey this year," she says. "We can't always be together but we're special friends."
The country singer, who is dating Blake Shelton, has a big heart when it comes to small creatures.
"We have a new dog named Hank," the 24-year-old artist says. "Blake actually texted me on the road. 'Here's our new dog.' He found him on the side of the road. So we got another one. We have six dogs in all, along with sheep and everything. Hopefully we're done. There's a stopping point on my farm because it's getting to be a really bad habit."
Article continues below advertisement
What's the strangest present she's received?
"Probably a box of chickens. One of my fans, we call him Chicken Man Dan, he sent me 24 chickens in the mail. Now I'm raising them!"
When she's on the road, her animals aren't faraway.
"I play with my dogs before I go onstage," she says.
Catch Miranda performing at the CMA Music Festival: Country's Night To Rock, which airs Monday on ABC.