NEWS
Miranda Lambert Gets Beauty Tips from Nicole Kidman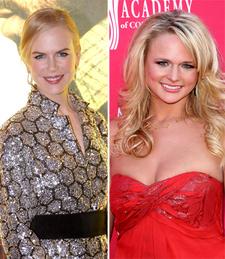 In the current issue of OK!, country star Miranda Lambert reveals that she takes her beauty advice from a good source — Nicole Kidman.
"I use sunscreen every day – SPF 85," the country cutie, 25, tells OK!. "I tan a lot but not on my face. I heard that from Nicole Kidman. She said she uses sunscreen throughout the year, and she is so beautiful."
Miranda calls herself a "lip-gloss freak," and names her favorite beauty products as M.A.C. Lipglass in Prrr, Kiehl's Ultra Facial Cleanser and Kiehl's Ultra Facial Moisturizer.
Article continues below advertisement
In the fashion department, she can't get enough of jeans and sundresses.
"I perform in jeans every night," she says. "I jump around too much to wear a dress! My style is a little cosmo and a little country, with some rock 'n' roll."
When she's not performing, Miranda enjoys spending her time on the road with her pups Delta Dawn and Delilah. "They're always with me."