NEWS
Miranda Lambert Intimidated By Fox News Gals?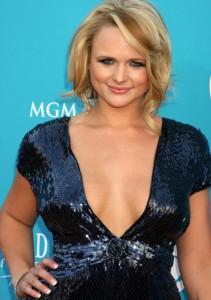 Even though Miranda Lambert made history by scoring nine CMA nominations today, she isn't the only woman her fiancé Blake Shelton adores.
"Trace Adkins and I end up talking about how hot the girls are on Fox News," he says. "That's fun."
Although Miranda -- who performs during CMA Music Festival: Country's Night To Rock airing tonight on ABC -- isn't jealous, she does see his point.
"Blake likes to push buttons, but my buttons are unpushable with him," she tells me. "I move right on past it. Yeah. He does have a huge crush on Fox News though. I was like 'why are you always watching the news?' And then I watched it one day, and I was like 'ohh, I get it.'"
Article continues below advertisement
Keeping up with the ladies of Fox News is one thing Miranda can check off now that she is following a low-carb diet.
"It changes my body because it works for me. Not eating bread and pasta is the way to go for me. It changes my attitude because I hate it. laughs I feel better about myself."
When she wants to splurge, she looks no further than a bag of Cheetos.
"Well, I love Cheetos, but I try not to eat those, so I usually go with a 100-calorie pack of Cheetos, which aren't near as good," she says with a laugh. "Every time – if I've ever had a fight with a boyfriend or anything – they always bring me Cheetos to make up. laughs It's the way to my heart."
She even treats her pets to the cheesy snack she calls her "weakness."
"I realize my dogs love them, too," she says. "I let them have a few, but not very many. They look so sad because I guess they see me enjoying them."
Here's my pic with Miranda:
For Miranda's What I Ate Today, pick up the OK! on newsstands now. The cover line is "Inside Jamie Lynn and Britney's Double Wedding!" And, catch Miranda performing on CMA Music Festival: Country's Night To Rock airing at 8 p.m. tonight on ABC.