NEWS
Miranda Lambert's Dog Cher Brings Good Luck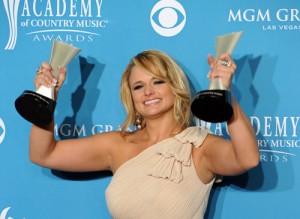 When Miranda Lambert was busy collecting awards for Video of the Year, Album of the Year and Top Female Vocalist of the Year during Sunday's ACM Awards in Las Vegas, she had a furry friend waiting patiently.
"This is Cher," the "White Liar" singer says cupping the little dog backstage. "She brought me good luck tonight. She's been in the dressing room, and she's ready to party."
Miranda adds, "She's my latest rescue. I got her in a shelter in Ada, Oklahoma, about a week-and-a-half ago. I have no idea what she is, but she's sweet and cute."
Article continues below advertisement
Ironically, the superstar Cher presented the country crooner's boyfriend Blake Shelton to the crowd earlier in the evening. Alas, the dog and her namesake didn't meet.
"I was hoping to get a picture with Cher and Cher, but that's a little lame," Miranda laughs. "I want a picture myself!"
Blake is equally in awe of the diva.
"I've never met Cher, probably never will, but knowing that she said my name on national television – that's badass," he confesses.
When Miranda was surprised with her Video of the Year win during an event honoring winners in the radio categories on Saturday night, she got to share the news with her man in private.
"I was on her bus, hanging out 'cause these weeks are so hectic," Blake recalls. "I had gotten done with something and got back to her bus before she did. She walked up to the bus and said 'I just won Video of the Year!' so we high-fived and toasted and celebrated for a minute there."
Article continues below advertisement
Tonight's toast will be more open.
"My family's here, my mom and dad, and Blake and his band and crew and my band and crew," Miranda says. "That's our family because we spend every weekend with them of our entire life. We're going to go hide out and be with people."
Carrie Underwood will be one friend celebrating with Miranda tonight.
Of their friendship, Carrie says, "I think she's so cool because she's real. You can talk to her, and she's not going to be fake in any way, shape or form. She's amazingly talented."
Miranda is thankful.
"I think we're the only genre that is genuinely family," she says. " We really are not catty. We really are happy for each other."