NEWS
Mischa Barton Not Making Any Gym Buddies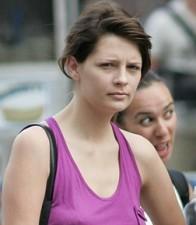 To stay fit for The Beautiful Life, Mischa Barton — who it's safe to say has had her ups and downs in recent weeks — has been working out hard and going to the Equinox gym in the trendy SoHo section of Manhattan almost every day.
But even though she's becoming a very familiar face there, apparently the for O.C. star is not winning many friends.
A member of the gym tells OK! that Mischa's "really annoying" and "monopolizes the trainers' time and seeks attention constantly."
Article continues below advertisement
Yikes!
Apparently, there is usually one floor trainer for everyone to use, but Mischa ends up grabbing the hardbody-on-duty and wastes everyone's time by asking him or her to explain every little thing to her, keeping them close to her the entire time she's at the gym.
"It's as if she has never been to a gym before," a fellow gym-goer says.
Mischa also struts around the gym, preening in front of any reflective surface she can find. "Instead of trying to blend in, it's like she really wants attention," says the source. "She'll stand right next to me and stare at herself in the mirror."