NEWS
Miss California: It's Not About Perez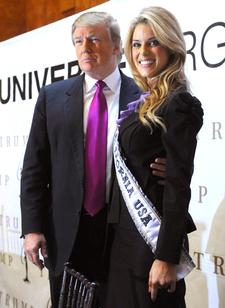 Although Miss California, Carrie Prejean, and blogger Perez Hilton have been sparring publicly since he asked her about gay marriage during the Miss USA pageant, the beauty queen says she's forgiven the gossiper for saying bad things about her.
"I don't appreciate the things he said about me," she told FOX & Friends this morning. However, she insists fighting with Perez isn't important. "This isn't about him, I want to show that I love him regardless. It's the kind of love that I want back and the respect that I want back as well."
Article continues below advertisement
Donald Trump, director of the pageant, also weighed in on the situation and his decision to let Carrie keep her crown.
"Look at the controversy that's been caused and ultimately this controversy has been fantastic for the pageant which is doing really well and just got a three-year extension, by the way, on network television," says the ultimate businessman. "And, Carrie has also done, whether we like it or not, from Perez, Carrie has been the biggest beneficiary. She's fantastic and people now get to see how fantastic she is. I happen to like Perez Hilton."
Carrie made the rounds at FOX, speaking with Sean Hannity last night as well. She revealed her dream to be a model, specifically for Victoria's Secret.
"Whether it's the pink line which is a less more revealing or, you know, to be a Victoria's Secret Angel. I think that would be amazing," she revealed.
How about Playboy?
"Absolutely not," she affirmed. "And I even got a ridiculous offer by Vivid Entertainment to do a $1 million pornographic film which I think is ridiculous."
Watch her on FOX & Friends below: