NEWS
Miss California USA Says Carrie Prejean Can Keep Her Boobs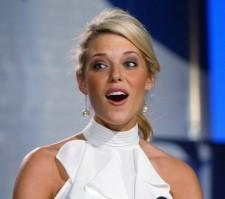 Miss California USA and Carrie Prejean have dropped the lawsuits they had against each other, TMZ reports. Carrie no longer needs to reimburse the pageant for her boob job.
"Carrie Prejean, Keith Lewis, and K2 productions have dropped their claim against each other and wish each other the best in their future endeavors," a statement from Miss California USA said. "We are moving forward from the past and looking towards the crowning of two winners and the new look of the upcoming MISS CALIFORNIA USA pageant, telecast live on November 22nd."
Article continues below advertisement
Back in August, Carrie sued Miss California USA for religious discrimination and defamation. They filed a counter suit asking for $5,200 back for paying for her breast implants.
Good thing the courts have cleared that all-important case out of the system!