NEWS
Miss Universe Gives Beauty Tips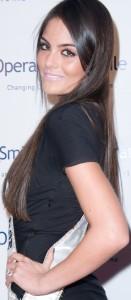 Now that Miss Universe Ximena Navarrete will surrender her crown during Monday's pageant airing live on NBC, she shares beauty tips she's learned during her reign.
"Eat," the Mexican stunner, 23, tells me. "Some girls are very skinny and not eating. I think you have to be healthy and drink a lot of water. Of course, work out every day, but try to have a balance in your life."
Miss Teen USA 2010 Kamie Crawford also offers practical advice.
MORE ON:
Red Carpet Confidential
Article continues below advertisement
"Preparation H under the eyes," the Maryland-born beauty, 18, says. "It's a hemorrhoid cream, but if you put it under your eyes, it reduces puffiness in the morning, so if you've been crying all night, put the Preparation H under your eyes. Or put it on your thighs, and put saran wrap on it overnight. It keeps your legs tight and reduces cellulite."
Good luck to Miss USA Alyssa Campanella as she competes in the Miss Universe Pageant. Go get 'em! (I was a preliminary judge for Miss USA.)