NEWS
MJ Family Lawyer: He Loved His Dad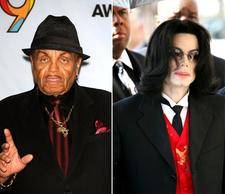 One of the many controversial stories of Michael Jackson's life was the abuse he says he and his brothers suffered at the hands of their father, Joe Jackson, when they were young. Michael revealed in some interviews, including one with Oprah Winfrey in 1993, that his father beat them if they didn't rehearse well, and that he would sometimes vomit from fear in the presence of Joe.
And now that Michael is gone, his mother, Katherine Jackson, has petitioned for and been granted temporary custody of his three children. There are also rumors that a will signed by the King of Pop in 2002 divides his assets between his mother, children and charities.
Article continues below advertisement
But family lawyer Brian Oxman told CBS' The Early Show this morning that despite all of the controversy, Michael loved his father.
"Joe Jackson has been one of the most interesting members of the Jackson family, probably only second in controversy to Michael Jackson. He is a good man. I like him, and he has been kind and generous to his entire family," said Oxman.
"Michael loved his father, and I want that to be known throughout all of time. He loved his dad. And all of the controversies, I think, need to be set aside at this point. And the one thing that needs to be remembered is Michael loved his dad, Joe."
As for the skepticism the public might have for this love, after Michael's tales of beatings with belts, Oxman acknowledges the controversy is understandable.
"No question about it. We hear all kinds of things to the contrary. But that's just part of the storm that's surrounded Michael Jackson's life. I mean, it's an unbelievable description of a storm," he explains on The Early Show. "I only know what I saw. I only know the conversations and the dealings that I saw. And that is that Michael loved his dad, and the fact that he wouldn't be mentioned in a will is not all that surprising. He had a great relationship with his mother, and I think that you have to take it on face value.
Oxman also clarified that if there is a will in existence, the family has no knowledge of it as of yet, so it's unknown if Joe is included in it or not.
"Katherine Jackson has filed a petition in the court in Los Angeles saying that they have not seen any will. And no one that I know of has ever seen the will, so we simply don't know," says Oxman. "That will will be presented in time. I think that it's a little slow in being presented. But if it is Michael's will, certainly that's got to be his desires. That's got to be his case. But as of this moment, no one has seen the will or even knows about it."