NEWS
Molly Sims is "Jealous" She Didn't Look Like 'Homeland' Star Claire Danes After Pregnancy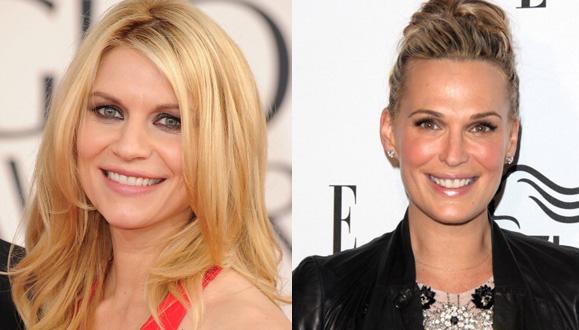 Molly Sims has always had a great figure, but when she gained 65 pounds from her pregnancy and didn't drop it right away due to health issues, she was upset to say the least.
"My thyroid kind of shut down, so that really made it very difficult in terms of the weight loss," Us Weekly reports.
OK! GALLERY: CELEBRITY MOMS EXCITED BY GAP KIDS + DVF COLLECTION LAUNCH IN L.A.
The 39-year-old gave birth to her son Brooks Alan June 19, 2012, but she's still not at the weight she wants to be so when she saw how fab Claire Danes looked just weeks after her pregnancy, she admittedly got a little envious!
Article continues below advertisement
"I'm still about ten pounds away and my baby is seven months. And I look at Claire Danes at the Globes and I'm like, I hate you."
When someone said Claire credited her slender look to Spanx, Molly laughed, "Sweetie, that ain't Spanx. I've got Spanx on. That ain't Spanx."
OK! GALLERY: CLAIRE DANES IS LOOKING FIT AS SHE GOES FOR A RUN IN NYC
She added: "I'm jealous of women like Claire. I wish to God I could have done it that way. But my body just didn't. And I'm so happy I have an amazing, happy, healthy, gorgeous, Buddha-like son, but I…wish it would have been easier. I tell my husband, it made me depressed a little."
But Molly isn't giving up and she's determined to look the way she wants so she's being very careful with her diet and lifestyle.
She will only allow herself to have, "really lean protein, no salt, no oils—I mean, hard core. The problem is…you can't cut back your diet until you stop breastfeeding, and I stopped at three months because I had no milk."
OK! GALLERY: CLAIRE DANES ROCKS HER BABY BUMP IN A GORGEOUS BLACK DRESS IN NYC
Article continues below advertisement