NEWS
Molly Sims Teaches You How to Drink Well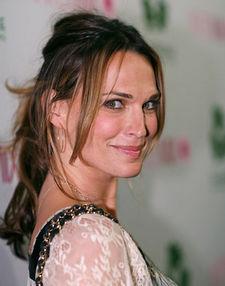 Before you make that drink a double, check out idrinkwell.com and make sure you're getting all your money's worth.
Las Vegas hottie Molly Sims is the new spokesperson for the Web site, a partnership between Diageo and Zagat, that reviews venues based on quality of cocktails and service, and the star tells OK! it's a very handy site for the fine wine drinker in all of us.
"People like to go out and have a nice drink," she tells OK!. "Wherever you are in America you can get the best drinks and drink service. It rates everything. I like knowing where to go and what's cool. When you are in Chicago and you want to go somewhere cool and you don't know, it gives you the best places to go for whatever you are in the mood for."
Article continues below advertisement
So what's her drink of choice?
"A Cuervo margarita, no salt, on the rocks, probably," Molly reveals. "Or like a glass of cabernet."
The 34-year-old enjoys the occasional much-needed cocktail after a long day's work on the NBC series, now in its fifth season. Over the years, the actress says she's gotten really close with the cast, especially co-star Josh Duhamel, her boyfriend and baby daddy on the show. In real life though, he's more like a teasing older brother.
"He always kids me about sports," she says. "I wore this Los Angeles Angels shirt the other day and he's like, 'You're so cool. I can't believe you follow them," and I was like 'Follow what?' I had no idea they were in the playoffs. But, yeah we all have a really good time. We all really like one another. It's like the perfect dysfunctional family."
By Jon Warech