NEWS
Monday night in LA: Simplyjen Style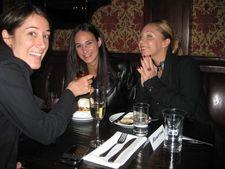 My sister Kim came to LA to celebrate her birthday believing it would be best spent going to parties with a sister that virtually goes to them for a living – and she thought an LA winter would be a refreshing change from the frost in NYC.
Sadly, her birthday was one of the few days I've seen rain since being in LA, but we made the most of an eclectic night of party hopping on a Monday night nonetheless.
Article continues below advertisement
First stop: D&G flagship store opening on Robertson Blvd in Beverly Hills
My sister and I arrived just as Paris Hilton was stepping out of her SUV onto the red carpet – for this reason we had to wait to walk in until Paris posed for photos -which, for a spotlight-loving star like her can take a good minute. This would have been ideal if my sister was one to ever get at all starstruck, but she was thoroughly unimpressed.
She was more taken by the racks of clothes and shelves of shiny purses and shoes that filled the nearly 7.000 square foot space.
As we walked around, champagne flutes in hand, we saw Rachel Bilson, hosting the event because it doubled as a benefit for Art of Elysium as much as for her love of fashion. I also saw House star Jennifer Morrison talking to Big Love star " Ginnifer Goodwin and realized they look an awful lot alike. As her longtime beau Danny Masterson, aka DJ Momjeans, manned the turntables Bijou Philips mingled while Nicole Richie, dressed like a stylish and tiny black-clad ballerina kept close company with beau Joel Madden and we caught Paris chatting with ex Benj Madden.
Article continues below advertisement
Second Stop: Gibson's Dark Fire Guitar Launch. Gibson Showroom, Beverly Hills
Trying to keep on or close to our party schedule we were back outside at 8:45 for a curbside pick-up from our friend Amber who whisked us over to a dramatically different shindig celebrating Gibson's Dark Fire Guitar launch at their Beverly Hills showroom where our friend Tyler from Blue Microphones invited us to see 80s hair band Steel Panther perform.
Instead of champagne we had the option of pulling Budweiser from a beer refrigerator and rather than pretty little trays of hors d'oeuvres, there was an In n' Out trailer doling out burgers in front, but we were no less entertained.
Not only did Steel Panther, formerly Metal Skool rock through a series of songs that had me wanting to rip the rubberband out of my carefully knotted hair to whip around head-banging-style, but we didn't have to feign surprise when Billy Ray Cyrus joined the band onstage to sing "Rebel Yell" followed by a make-up-free Paul Stanley from KISS who sang "Lick It Up." The nostalgic trip was priceless, but the second the last note was strum it was off to the next stop – Frank Sinatra night at Crown Bar.
Article continues below advertisement
Third Stop: Frank Sinatra night at Crown Bar
Crown Bar is one my regular stomping grounds but rather than the packed weekend nights I'm accustomed to, this new Monday night soiree had a more old-school glamour charm with a guy crooning Frank Sinatra songs from the stage as a well-dressed group enjoyed a dimly lit dinner of Crown Bar's surprisingly good fare. Although the 1950s theme was fun, after bread pudding we were on the verge of being carried off on a sugar high or falling into a food coma so had to make a move, which took us to…
Fourth Stop: Bardot
I always miss the fun party that ensues Monday nights at Bardot because after waking up at 5:45am Mondays I have little energy to do anything besides watch Gossip Girl at night. But, with Gossip Girl on hiatus until next year, oh, and my sister's birthday, it was a perfect excuse. Unfortunately for my Notebook-loving sister, Ryan Gosling, who regularly DJ's Monday nights, wasn't there last night but we did see his best friend and DJ partner Zach break dance in between spin records and Gerard Butler surround himself with admiring women as he watched from the balcony while Dan Aykroyd and Eliza Dushku sang happy birthday to Bardot owner John Lyons.
All in a Monday night…
Tonight, off to the Lakers vs Knicks game before hopping a plane to NYC tomorrow morning ;) xoxo