NEWS
Monday Night TV Roundup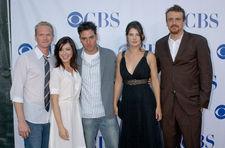 TV Fanatic and OK!'s Joyce Eng breaks down your fave shows of the night!
Dancing With the Stars: "And we're off to another season of DWTS! The show boasts that this is the most diverse contestant roster yet with its youngest competitor, its tallest competitors and an Academy award-winning actress who is deaf (take that, Heather Mills!). The show opens with all the dancers boogie-ing together — and showing the way dancing is supposed to look. Of course, this may be the last time we see any good moves! Tonight it's all about the men, and I'm gonna break 'em down,
Article continues below advertisement
one-by-one:
Penn and Kym: Yep, Penn does look like a big lunk of a statue that is being moved block by block. But he looks like he's having fun. Just how tall is Penn (Time for a Google break. He's 6-foot-6. That's pretty tall).
Jason and Edyta: Sooo, Jason is afraid that his manhood will be on the line after he ballroom dances. He's like 8 ft. tall/ He can crush you with just one step. Who's going to say anything to him? Those ridiculously long legs of his create incredible lines. Don't I sound like I know what I'm talking about? The moves, a little stiff. But he looks like he's got promise.
Cristian and Cheryl: Cristian is nervous. He's Latino, for goodness sake. His hips should move like he says. He's hoping their natural swivel will kick in during the performance. And they — don't! Oh well. He's sexy, I'll give him that.
Adam and Julianne: Maybe it's that self-deprecating nature, but I actually liked Adam's performance. He was stiff in that penguin suit, fer sure, but he seemed to be trying his best in earnest, and I loved his military-straight stance when he clapped his arms to his sides. I just may have to vote for him.
Article continues below advertisement
Mario and Karina: Was there any doubt that Mario would tear up the dance floor? He's young, he's sultry, he's got moves. And he worked them on that floor. It's easy to see that he and Karina have chemistry, and she does have a thing for Marios…
Steve and Anna: Oh my god, I LOVED Three Men and a Baby. Can I say, Steve is looking majorly buff for 49! He's got such a positive attitude about being on the show — he's doing it to celebrate his parent's 50th anniversary! Thank goodness it's not to win, 'cause his dancing, not so good.
I think the girls might be able to take it this season. Tear up that floor tomorrow, ladies!" — TV Fanatic
How I Met Your Mother: "And we're back! It's been way too long, yet it felt like the show never left. It's St. Patrick's Day and Ted had planned a quiet board game night at Marshall and Lily's new apartment, but Barney had other plans. In all his green suit glory (really, my dreams are coming true — Neil Patrick Harris in a suit of my favorite color) taunts Ted for not hitting the town with him — "that's so not Raven!" — eventually luring him under his Nostradamus/end-of-the-world spell to accompany him and two hot chicks to club Lowpoint. Apt title considering what unfolds afterwards. Finding his inner frat boy/party animal, Ted lives like there's no tomorrow inside — or at least tries to. He bills two bottles of champagne to another dude and starts getting it on with Ashlee (Vanessa Minnillo), a married whore who felt no guilty conscience cheating on her hubby. Ted questions going all the way with her, and Barney tries to erase his worries with an empowering speech about the Three Rules of Cheating — It's not cheating if you're not the one married, her name has two adjacent vowels, and she's from a different area code. How does he know Ash is not from around these parts? "She's 516. She might dress like she's 718, act like 212, but trust me, she's 516." As a 516 resident (but 718 native and 212 employee), I cannot vouch for Barney enough! Before Ted can do anything, he gets punched by Mr. Gorito — the guy he charged the champagnes to. Cut to Ted, black eye and all, next morning, still proud of his past night's deeds — until Marshall promptly knocks some sense into him. Butt-dialing Marshall 17 times with his phone in his pocket (um, lock your keypad, man), Ted got a brutal play-by-play of his unseemly actions and realized what a complete douche he was being. Barney's awesome and all, but we don't need Ted turning into him. Ted heads back to Lowpoint in search of his phone, but finds something more valuable that was a color way more important than green — the yellow umbrella of his future bride! The puzzle's coming together! As for Marshall and Lily's board game night, Robin realizes the apartment is slanted, but Marshall doesn't want to break the news to Lily, so he adorkably tells her the ghost of a Confederate soldier has been haunting the premises. Robin finally coughs up the truth and they get all depressed about their slope-y future (not being able to have a pinball machine, naming their daughter "Eileen") until Robin comes to the rescue by creating Apartment Roller Luge with a skateboard. Fantastic! This was an ingenious way to allow M & L to live with Ted longer as their problems get, uh, straightened out. All in all, a solid return, so 'til next week! And you know who's going to be there, y'all!" — Joyce
What did you think of the lineup?