NEWS
Moneyball Delay Could be Blessing in Disguise for Brad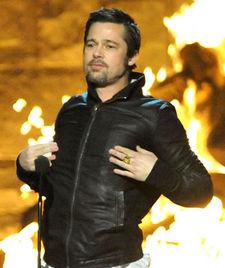 It's rarely a good sign when a movie studio decides to put a film into turnaround only a couple of days before it's slated to begin shooting — especially a film from an Oscar-winning director and starring one of the biggest-name actors on the planet. But that's exactly what happened to Brad Pitt's next project, the Steven Soderbergh-directed Moneyball, which was supposed to start filming today in Arizona.
Article continues below advertisement
However, insiders explain to OK! that this delay in production, which is reportedly due to last-minute conflicts over the script, may end up working in Brad's favor — psychologically and physically.
"The location shoot for the film would have kept Brad away from his family, who are all with Angelina Jolie while she films Salt on the east coast," says the insider. "But with Moneyball on hold, he won't be jetting back and forth or have to worry about being a long-distance dad. Brad is free to do what he wants until this situation with the film is resolved."
Some sources tell OK! that Brad already took advantage of the schedule change by flying east to join Angie and the kids for Father's Day weekend.
One thing Brad might want to do with his free time, says the insider, is hit the gym. "Brad's character in Moneyball, Oakland A's general manager Billy Beane, is in the kind of shape Brad used to be in, but anyone who's looked at photos of him recently can see this is not the ripped hottie from Fight Club," explains the insider. "Maybe he should stop riding his motorcycle and take a spinning class."